December 16, 2022
Our North American Operations Meetings for the year have concluded. Field Technicians, Technical Support, Account Managers, and other crucial operational support teams gathered in Colorado in September and November for Pason's Annual Operations Meetings.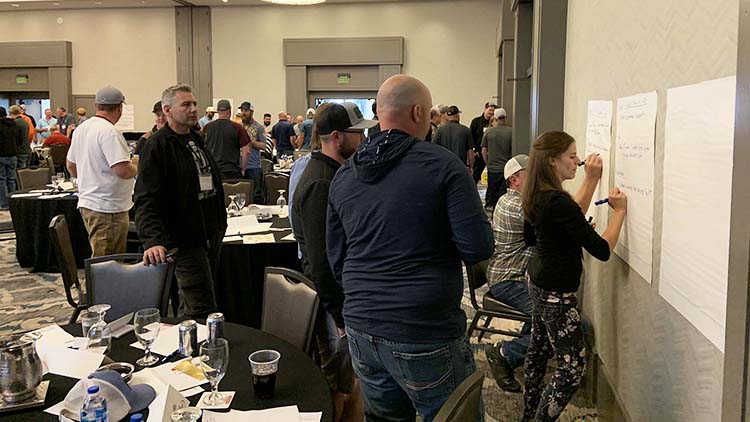 The atmosphere was exciting as the around 120 Pasonites attended each of the meetings.
This year, the main goal for these meetings was to re-confirm our commitment to customer service, specifically for our new Electronic Drilling Recorder (EDR) client. Over the last year, we've worked to improve the EDR, our flagship product, with the Pipe Tally module getting a big overhaul.
"The EDR is getting a total makeover," said Bryce McLean, VP of Operations. "It's functionally the same, with a much better user experience, so it can be a big change for our customers.
There are new menus and a new look and feel, with different locations for select functions. It is very intuitive, but because it is so critical, change management is important."
With the EDR improvement, Bryce said it's essential for our Field Technicians, Account Managers and other operations team members to be there for our customers, remaining available for any and all questions they may have.
We already know we are great at serving our customers, Bryce noted. But these meetings answer the question, "How can we work together to ensure we're delivering the highest level of customer service, above and beyond what we normally ask?" This rings especially true for the improved EDR.
The meetings are an opportunity for Pasonites to come together to ensure we are doing the best for our customers, addressing challenges, providing training, and even reinvigorating the Pason culture with team-building events and activities.
The meetings consisted of plenty of group discussions and "team breakouts" from Pason departments on products, strategy, and more. One such discussion was on EDR Evolution with a Product Line Manager, and discussions on company strategy with Pason President & CEO Jon Faber and Lars Olesen, VP of Product & Technology. In addition, VP of Commercial Kevin Boston spoke to participants about our commercial roadmap. The North American Safety team also presented the importance of working safely.
On the note of reinvigorating culture, a portion of both meetings were Field Tech Awards to Pasonites who have gone above and beyond while at work.
"Whether it was helping someone on the side of the road or stopping someone from cleaning out a mud tank that contained hazardous material, these were really great acts that could have been potentially life-saving," Bryce said, adding there were a few joke awards as well to keep things light-hearted.
Years of service milestone awards were also presented. A significant work anniversary was that of Ben, Director of Supply Chain, who celebrated 25 years with Pason this year.
The meetings weren't all work and no play, however. This was a chance for Pason employees to meet each other from all over the United States and Canada. Supplementary to all the group discussions and presentations, attendees could go axe throwing and attend a mixology class, strengthening the camaraderie among coworkers.
A highlight of the conference was an idea tournament. So, what is an idea tournament?
Participants were asked to provide ideas for the company. Starting with 600 ideas, dwindling them down to 360, then 120, then 18.
"We had a chance to discuss the ideas through three different stages," Bryce said. "And then those ideas got better as they were questioned, challenged and contributed to."
He added, "It's essential to get a variety of perspectives on what we're trying to do. And the biller brings a different perspective than the account manager, the help desk person or the field tech."
That made for a busy few days of meetings, complete with team building, culture and commitment to the Pason customer, which is our top priority.
We aim to ensure customers feel supported while we update and improve our hardware and software solutions in the energy technology industry. These meetings allow us to prioritize what's important, where our Field Technicians can collaborate with the support they need to deliver an exceptional customer experience.
Use the links below to share this article on LinkedIn, Twitter, Facebook, or via email.