September 29, 2023
Our first in-person Wellness Expo was a resounding success!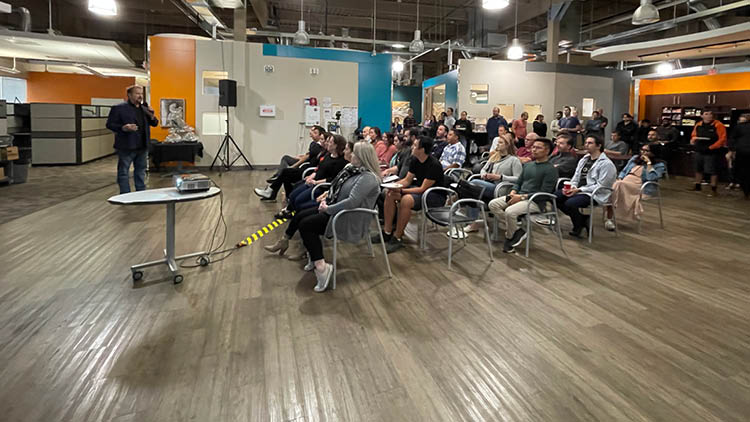 On Sept. 13, 2023, representatives from various vendors provided our employees with extended benefits information, personal training sessions, financial advice, and other wellbeing services.
Seven vendors attended the Wellness Expo and were stationed in various locations across our Calgary office. As a fun game, Pasonites were given Bingo cards where they were challenged to visit all vendors. Completed Bingo cards were entered for a chance to win special prizes!
Mary, Payroll & Benefits Specialist, said she's looking forward to improving this event year after year.
"I believe the expo went well," said Mary, who organized the event along with Pason's North American Human Resources team. "This is Pason's first Wellness Expo in person, so there will be some takeaway that we will apply for the next event!"
Pasonites were invited to attend a presentation on Financial Wellbeing, which Mary said was one of the highlights of the day.
"I believe the Financial Wellbeing presentation was the most valuable aspect of this year's expo," Mary said. "Finances can be a big aspect of stress."
In addition, a financial advisor was available to Pasonites who wanted to schedule a one-on-one meeting for advice on finances.
"With everything so expensive right now, it can be hard to keep up for some," Mary said. "I think the tools given at the Financial Wellbeing presentation and the financial advisors being here was a big help!"
Pasonites were also offered 20-minute chair massages throughout the day, and a booth on nutrition was available for any and all employees' nutritional inquiries. Additionally, Cubbi, a food delivery service that connects employees to fresh meals made by local kitchens, was in attendance! Employees could spin their prize wheel and learn more about their healthy meal options delivered directly to the office.
Employees looking for some time in the gym could see a personal trainer for a gym training session every half an hour. The trainer was also available to answer any questions Pasonites may have.
Our brand-new Employee Family Assistance Program (EFAP), Kii, was also stationed in the office to give employees more information on what services they can access.
Mary and the HR team wanted to ensure employees were using all their benefits, and the Wellness Expo was the perfect opportunity to gather our benefits providers together.
"We decided to create the Wellness Expo for employees to connect with as many vendors as possible, so they can get their questions answered," Mary said.
Use the links below to share this article on LinkedIn, Twitter, Facebook, or via email.