May 5, 2023
When our Pasonites are on the road, whether a Field Technician is out on the rig or a corporate employee commuting to the office, we want them to arrive safely.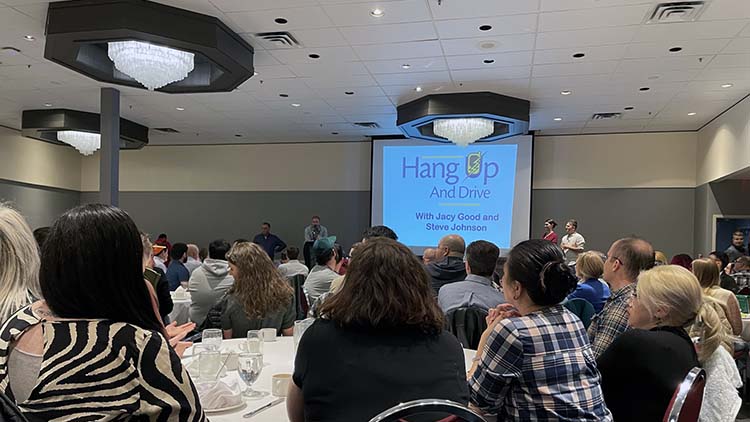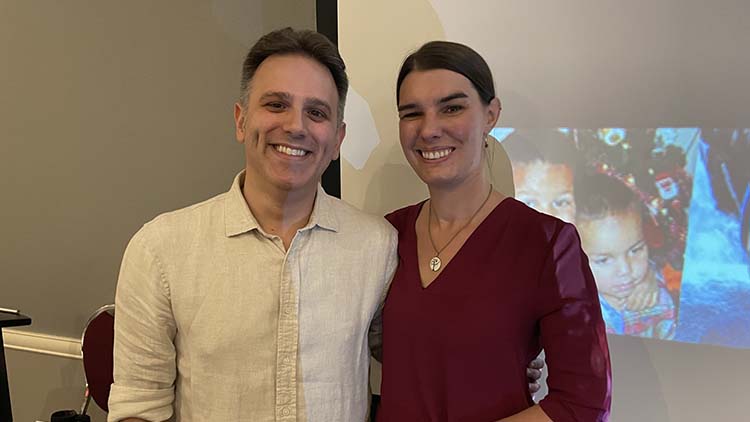 That's why we recently hosted a distracted driving presentation with Hang Up and Drive's Jacy Good and Steve Johnson, public speakers and advocates for phone-free roads.
"It's no secret that the highest risk activity Pason Field Techs participate in is driving, and we drive a lot," said Dan, Pason Canada HSE Manager.
Just last year, Field Technicians drove more than 11 million km. "To put that in perspective, Pason Field Techs circumnavigated the globe 275 times in 2022.
Our Field Technicians drive in every sort of condition. "They drive through unimaginable conditions, rain, snow, blizzards, icy roads, muddy roads, the list could go on and on," Dan said.
He added that it's essential to focus on the road, even in areas like Walmart parking lots and drive-thrus, where tight manoeuvring is required.
"If we're reaching for our phones, we're not focusing on the task at hand," he said.
Looking back, Dan said our initiative to encourage distraction-free driving at work and in life began with just an outreach to Field Technicians. However, discussions led to the realization that this message is one that our entire office should hear.
That's where Jacy and Steve come in. The couple shared their story during a breakfast at Hotel Blackfoot for Pason employees in Calgary. Later that afternoon, Jacy and Steve spoke to students at Notre Dame High School, organized by Pason.
According to the Hang Up and Drive website, Since Jacy's miraculous recovery from the 2008 crash that claimed the lives of both her parents and left her partially paralyzed – a collision caused by a distracted driver – Jacy and Steve have worked tirelessly to educate about the dangers of phone use behind the wheel.
"It only takes a second for an incident to occur," Dan said. "But accidents don't happen in slow motion. They happen instantly; if you're unprepared, they will happen to you. Those incidents can range from minor to life-altering. So, start making good habits, make conscious decisions to not touch your phone at any time when you're driving."
Use the links below to share this article on LinkedIn, Twitter, Facebook, or via email.