January 17, 2019
Pasonites from all around the globe gathered to celebrate Pason's big 4-0 over the last couple of months. Depending on the location, Pasonites gathered in big or small groups to mark this significant milestone.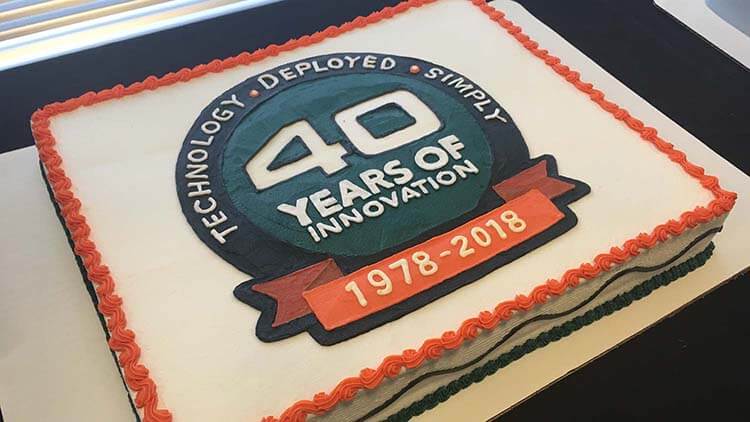 "I want to say a big thank you to all current and former Pasonites," says Marcel Kessler, President & CEO. "Over the last 40 years there must have been a couple thousand people who have helped build this company. Thank you to everybody who is here today and thanks to everyone who has been a part of building this company."
Jim, former President & CEO and current Chairman of the Board, attended the anniversary party in the Calgary office. He's been with the company for 38 of the 40 years and had some thoughts to share on how the company has changed over the years.
"When I look around now, it's unbelievable when I think of what kind of outfit Pason was in 1980 when I first met it," says Jim. "This company was started by two people, Mr. Parks and Mr. Mason, and they just built the company to flip it."
Pason was simply a combination of Mr. Parks' and Mr. Mason's two last names. Their business was built on selling remote drilling chokes. However, they used production chokes, which were not really suitable for the job, according to Jim.
In those early years, the company developed products, such as crude versions of the Pit Volume Totalizer, and soon found they were much too fragile for rigsite environments and relied too heavily on field technicians to fix and maintain them.
The small Pason team was an "all-hands-on-deck" operation and learned on the go, but it didn't take them long to realize that rigsite products needed to be durable, robust, and rig-tough. They also quickly learned that, although hard to find,experienced and reliable field personnel were vital to the company.
Use the links below to share this article on LinkedIn, Twitter, Facebook, or via email.