Stick Slip: a costly torsional vibration
investors: Published on , July 11, 2019
While drilling a well in today's fast paced oil and gas business, drilling operations can experience many downhole vibrations that lead to costly drilling inefficiencies. One such phenomenon is stick slip – a form of torsional vibration that occurs when the bit, bottom hole assembly (BHA) and/or drill string experience different rotational speeds than expected.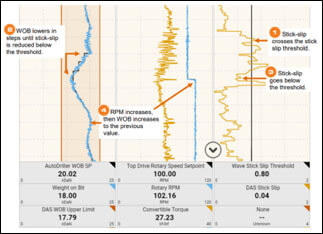 During the "stick" phase, the rotation at the bit slows down or even stops, and reactive torque builds up in the drill string. This occurs until the point where the dynamic friction exceeds the static friction at the bit and the built-up torque in the drill string releases, or "slips". This causes the drill string to unwind and the bit RPM to speed up at a dangerous rate. It can unwind so fast that, in extreme cases, the string over rotates and needs to rotate counter-clockwise to correct itself to normal torque levels.
Severe stick slip can lead to costly downtime, including downhole motor failures, twist off, or damage to drills bits.
To properly mitigate stick slip, the driller must first identify the proper type of downhole vibration. He does this by watching for common symptoms of stick slip, such as sudden decreases in rate of penetration, a large torque envelope in the torque signal, or in severe cases, the top drive stalling. Many experienced drillers overlook these symptoms for extended periods of time.
The textbook response to mitigate stick slip is to first manually decrease the weight on the bit and then increase the rotary speed of the drill string. This process is repeated until stick slip is mitigated to a point where normal drilling operation can resume.
Are drillers today generally trained to recognize stick slip? If so, what kind of symptoms do they look for? And do they take a different approach to mitigating this dangerous downhole vibration?
Pason offers an automated system that models, measures and mitigates stick slip in real time. The system is called DAS, and operates through Pason's automatic driller, integrating equipment already installed on most rigs. DAS utilizes surface sensor data in a proprietary torsional model developed in partnership with ExxonMobil Upstream Research team.
The system automatically identifies when stick slip exceeds user defined thresholds, and then manages weight on bit and the rotational speed of the drill string to reduce stick slip severity. It then recommences ROP optimization. As this system utilizes surface sensor data and a drill string model, the calculated stick slip values have been compared against many more expensive and cumbersome downhole tools, with very comparable results.
Credits
Matthew Huber