February 9, 2023
The Calgary Aphasia Centre (CAC) is an organization with which Pason has a longstanding relationship. The non-profit has received our scrap metal recycling donation for the past seven years.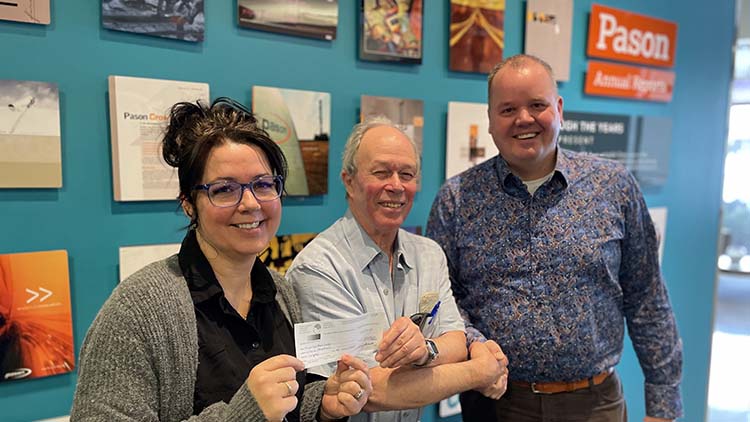 This year, we donated $9,500 to the Aphasia Centre and two other organizations: LEAD Foundation and Canadian Mental Health Association.
We've remained a strong supporter of the Calgary Aphasia Centre. Through our recycling program, all donation recipients are picked by Pasonites and backed by employee support.
That's why we were so honoured to have Larry Jarrett, Secretary-Treasurer for the Calgary Aphasia Centre, stop by last week to personally thank us for our continued support, which began in 2016.
Larry has been with the group since its inception in 2014. He says the organization regularly hosts communication groups and other activities for members.
Here's a little bit about the centre itself:
According to the website, CAC was established with a grant from the Stroke Recovery Association of Alberta (SRAC). The centre runs regular programming, like conversation groups, for those affected by aphasia at no cost. The organization was also created to support and advocate for Calgarians living with aphasia.
The CAC's mission is to help clients live more successfully with aphasia by building their communication skills and confidence and identifying resources that facilitate participation in meaningful everyday activities.
Larry himself is a volunteer with the centre. He first got involved with CAC because of his father, who had a stroke.
He notes that CAC appreciates our continued support. The Aphasia Centre is a special place for Pason, as our donation was championed by our former CFO David in 2016, following his wife's stroke several years earlier.
Jenny, Pason Canada Manager of Warehouse and Logistics, says even after David's retirement in 2020, the CAC will always hold significance as a recipient of this annual donation.
"It means a lot that Larry came to Pason to thank us personally for our donation," Jenny says. "This organization has close ties to Pason, and we are happy that our contribution can go toward services and programming run by the Aphasia Centre."
In addition to Larry stopping by to thank us in person, the LEAD Foundation, which provides programs & services to enhance the development of children through partnering with families and community, also sent us a thank you for our support. We are feeling the love over here at Pason!
Pason's Canadian Warehouse team heads our scrap metal recycling initiative. Starting in 2014, the team would recycle metal, electronics and even personal items from employees, with all funds from recycling donated to the cause.
Scrap metal and electronics recycling from Pason's product lines are processed through Recon Metal and eCycle Solutions, respectively. The companies take the material and send Pason a cheque, which is used for donations.
Use the links below to share this article on LinkedIn, Twitter, Facebook, or via email.