July 20, 2020
Pason's Health and Safety departments' priority is the safety of our employees. During these times of uncertainty and COVID-19, their goals are no different.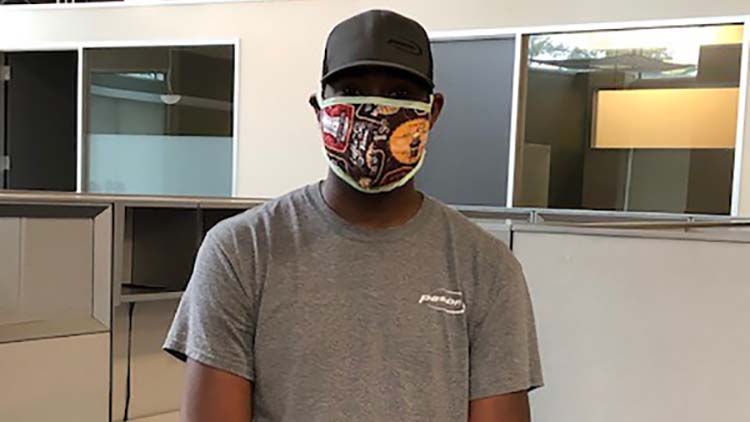 Daniel, Pason Canada Manager, Health and Safety, and Todd, Pason USA Manager, Health and Safety, have been hard at work with their teams ensuring protocols regarding the pandemic are followed. This is on top of the team's usual goals of exceeding safety standards.
All Pason offices have taken Health and Safety standards to a higher level. Todd says office, warehouse and field protocols require continuous monitoring and updating. He says the safety teams are working hard on not becoming complacent with any safety protocols.
In addition, warehouses in both the U.S. and Canada are working in separate shifts, frontline workers are using additional Personal Protective Equipment (PPE), and physical distancing and sanitizing practices are in effect. Delivery drivers have designated waiting areas to keep them separated from warehouse employees.
Both Daniel and Todd say the Health and Safety teams immediately instituted handwashing requirements in the field and at Pason's office locations when the threat of COVID-19 began.
"We've had to institute a lot of handwashing and cleanliness protocols as well as a number of physical distancing protocols that we didn't have in place before," Daniel says.
Todd adds, "Areas where people normally gather have been limited, like gyms, coffee areas, as well as conference and training rooms."
Pasonites who can work from home are now at home for the safety of the staff. Todd says that he and his team communicate remotely via Microsoft Teams.
Daniel says that it has been difficult, especially for Pason's frontline workers, like Field Technicians and Warehouse employees, among others, who are working hard to maintain physical distancing.
But even though COVID-19 poses a threat, Daniel explains that keeping up with safety measures outside of physical distancing protocols are still just as important.
"This time of year, we still have rigs to strip, we still have equipment to retrieve and the hazards that were there prior to COVID-19 are still there and we still have to emphasize those risks as well," he says.
Daniel says that Pasonites, especially in the field, are maintaining safety measures against everyday hazards.
"The tasks that we're doing, they're still just as hazardous as they were before," Daniel says. "We have to make absolutely sure that we are doubling down on our safety efforts now to make sure that everybody is doing things the right way."
Todd explains although times are tough, Pasonites have shown their ability to overcome obstacles before and will continue to overcome them again.
"Most Pason teams are action-oriented in nature and this might not be the challenges we were expecting, but I feel that Pason employees are exceeding expectations," Todd says. "Pason is ahead of the game and leading the way."
Use the links below to share this article on LinkedIn, Twitter, Facebook, or via email.