June 14, 2022
Niyousha takes pride in working on Pason's products. She describes her team as growth-oriented and committed to delivering exceptional, modern services to our customers.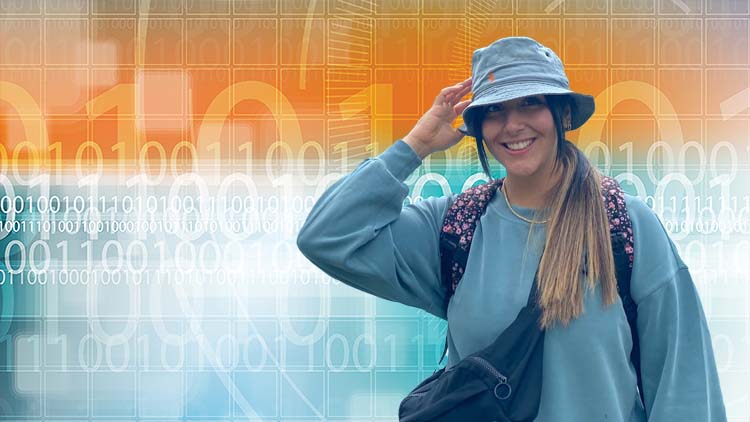 The Software Developer Intern has been with us for the past year, working on real projects and doing real work. She is currently going into her fourth year of Software Engineering and pursuing a Minor in Management and Society, and Certificate in Entrepreneurial Thinking at the University of Calgary.
"I came across Pason's software developer internship position on the Schulich School of Engineering job board after finishing my third year in Software Engineering," Niyousha says.
She says she was already familiar with Pason, thanks to her research supervisors and peers who spoke of Pason's contributions as an industry sponsor for various MEng projects at the Schulich School of Engineering.
Niyousha has recently received the prestigious Women in STEM Scholarship, an honour that supports women pursuing careers in STEM.
"I believe it's crucial to have further diversification in the tech industry," she says. "More representation in tech companies leads to wider skillsets, brighter ideas, richer workplace culture, and better products and services tailored to different markets."
Being an advocate for women in STEM is essential to Niyousha. While applying for the Women in STEM Scholarship, she explained how her experience as a Persian woman immigrating to Canada from Iran has contributed to her passion for promoting equality in her chosen field: Software Engineering.
"For instance, during my third year, I was responsible for managing website content for the Wise Planet, which is a program with the mission of creating a diverse, inclusive, equitable and just society by training women and other underrepresented groups in STEM to be change leaders."
Niyousha works on meaningful projects at Pason. She's had the opportunity to design and develop software for complex frontend and backend applications using the DataHub technology stack (e.g., ReactJS, JavaScript, Java, and Python). She participates in all aspects of software development and delivery, and cross-collaborates with other teams like Product Management, Quality Assurance, and User Experience.
She's curious and has a hunger to learn more as a Developer on the DataHub Agile Development team.
Now that she's in the second half of her internship, she's working with our DataHub Refresh team on modernizing Pason's DataHub Web Application.
"I am currently working on a new rig state breakdown feature for the new DataHub Web App, which involves aggregating rig state data and presenting the data graphically for customers to download and assess in order to optimize their drilling processes," Niyousha says.
Niyousha continues to work part-time as a research associate at the U of C's Electrical and Software Engineering department. "I am also currently wrapping up my book, which tells the story of a team of MEng students working on a summer internship software project at the Schulich School of Engineering and delivers insight into tailoring different frameworks, such as Component-Based Development and Scrum, to projects facilitated by collaborations between industry and academia."
Additionally, she is a member of TechStart UCalgary, a club at U of C for students to collaborate on tech start-up projects.
"I joined this club in my third year as a frontend developer, then a Project Manager for the TechStart website team, and am now the incoming Co-President for the 2022-23 school year!"
Does that sound like a busy schedule? Niyousha calls herself an "expert multitasker!"
She also enjoys biking, swimming, hiking, reading, and Karaoke.
"You can often catch me working on 10 different things at once, whether coding, watching TV, playing games, or studying," she says. "I think this talent attributes to all the context switching that I can do at work."
In addition, Niyousha enjoys watching Persian shows and movies with her parents.
She attributes her parents' support – along with support from her peers and professors – to her realization that being a woman in STEM is an asset, not a weakness.
"As such, I will continue to be a strong advocate for my fellow peers pursuing careers in STEM!"
Use the links below to share this article on LinkedIn, Twitter, Facebook, or via email.