June 23, 2020
Our physical health is of utmost importance during this time of COVID-19 and physical distancing. However, it's important to check in on our mental health, as well.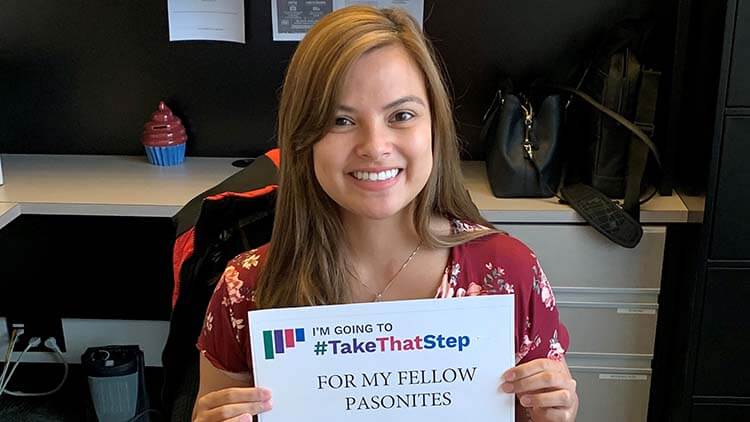 At Pason, we are happy to announce our support for the #TakeThatStep campaign as part of our partnership with Homewood Health, through Manulife Resilience.
"With the current COVID-19 pandemic that is happening, we know that not seeing friends, isolation from family to make sure everyone is safe, and living the new normal life will challenge our well-being," says Mary, Pason Canada Payroll and Benefits Specialist. "Pason's involvement in this campaign will not only support our employees' well-being but will also raise awareness for everyone's mental health."
The initiative, created by Wellness Together Canada, is a reminder to take the steps to improve mental wellness. Wellness Together Canada believes that mental health is a journey, not a destination.
The #TakeThatStep campaign includes a collaboration with Toronto-based artist Jacquie Comrie. Jacquie has turned shoes into art, representing the action of taking steps towards understanding your mental health, as well as getting help when needed, and continuing to check in on yourself throughout your wellness journey, according to Wellness Together Canada.
"In this tough time, Pason will #TakeThatStep to showcase a great resource that is available for mental health support, which shows Canadians that they are not alone," Mary says.
Funded by the Government of Canada, Wellness Together Canada is the country's first and only online platform offering immediate mental health and substance-use support for all ages. This free program was introduced as a response to the COVID-19 pandemic.
For more information on Wellness Together Canada, visit wellnesstogether.ca, and remember to #TakeThatStep.
Use the links below to share this article on LinkedIn, Twitter, Facebook, or via email.