March 7, 2022
We've hit the target.
Pason achieved Target Zero, meaning our North American operations had zero recordable injury incidents for the entire calendar year in 2021.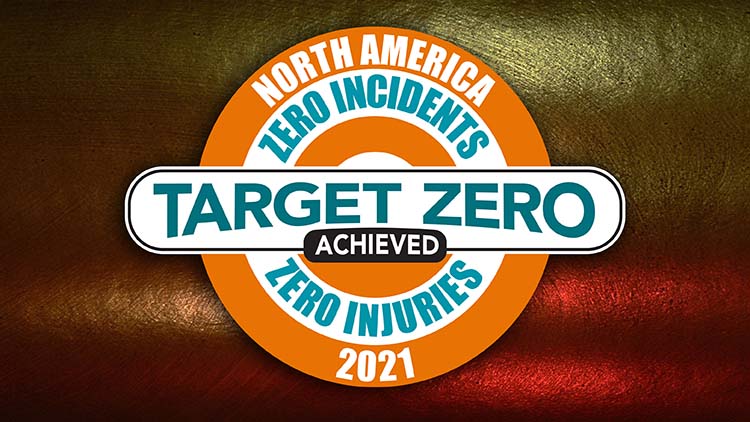 "The Pason field techs have bought into a robust Hazard Identification and Control Program that has been steadily improving in all of North America," said Daniel, Pason Canada Manager, HSE. "Field techs have also adopted a mindfulness model that has improved their ability to identify hazards and reduce the risk associated with that hazard."
In 2021, we were able to:
Work nearly 1 million hours (919,165) without an injury incident.
Attend 1,042 rigs without an injury incident.
Complete 15,694 jobs on rigs without an injury incident.
Compile 190,825 rental days without an injury incident.
This is the second time Pason has made this achievement in the past three years. Previously, we accomplished Target Zero in 2019.
Pason uses the Total Recordable Incident Frequency (TRIF) to measure recordable incidents or injuries. Injuries are tracked monthly to make up the TRIF calculation.
Recordable injuries are defined as work-related incidents that result in:
Medical Aid: Medical treatment beyond the scope of being a first aid. Typically, treatments require follow-up visits with a physician or support service like physiotherapy without missing time from work or having to accommodate alternative work responsibilities due to the injury.
Modified Work: Due to the severity of the workplace injury, regular work responsibilities cannot be completed, and alternative work plans must be developed to accommodate the nature of the injury.
Lost Time Injury: This is so severe that the individual involved cannot attend their next regular shift.
Fatality
Hitting Target Zero is a huge accomplishment for drilling services and technology companies like Pason. Due to the high-risk nature of the tasks our field technicians must complete on drilling rigs as well as the requirement to drive long distances, an entire calendar year without a recordable incident is a remarkable achievement.
"There are significant hazards all over rig site locations, and very few other service companies can claim that they have ever even come close," Dan said.
This achievement is significant because Pason can continue providing the most immediate, preferred, and direct assistance at any location, in every time zone, 24 hours per day, 7 days a week, 365 days a year.
Dan expressed his congratulations to all Pasonites who contributed to this goal.
"This is an achievement worth celebrating. The results are a reflection of the herculean effort that everyone has put forward to make this happen."
Use the links below to share this article on LinkedIn, Twitter, Facebook, or via email.