January 4, 2022
Eleven days. Four hours on, four hours off. A goal of 261 hours.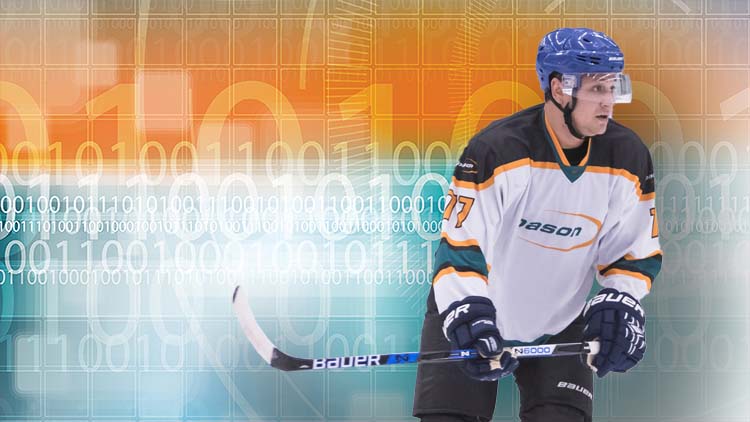 One of our own is training up and preparing to play in a hockey marathon to raise money for the Alberta Children's Hospital Foundation.
From March 31, 2022, to April 11, 2022, Geoffrey, Pason Account Manager, will be playing hockey among 40 players in an effort to give back!
The Hockey Marathon for the Kids website describes the fundraising event as, "40 players will try to play 261 consecutive hours and beat their friends to the north in a true battle of Alberta." The Calgary area event began in 2012, when a group of individuals played 246 hours of hockey. Two years later, they played 248 hours, all while raising money for the children's hospital.
Each team has been given the goal to raise $100,000. Geoffrey has set a personal fundraising goal of $10,000 and has already surpassed it!
He got involved because he wants to help make a lasting impact on our community in Calgary.
"I talked to the organizer and told him if they ever put this event on again, I wanted to be involved in the next Marathon for Kids," Geoffrey says. "So, when they decided to run it this year, I was lucky enough to be selected to play."
The Account Manager, who has been with Pason for seven years now, holds this cause close to his heart. "My father was diagnosed with non-Hodgkin's lymphoma two years ago, which also hits close to home."
He adds, "When I hear stories from the families affected by past events, it brings me to tears," he says. "So, this is my way of saying thank you to the Alberta Children's Hospital and 'You got this!' to all the brave children battling cancer every day."
Geoffrey has been a committed member of the Pason team for close to a decade. He was very familiar with Pason before joining the organization, previously working in various positions in the Oil and Gas Industry over the years. He's also a SAIT alumnus with a diploma in Energy Asset Management, a program designed by Canadian energy companies on managing the complete lifecycle of oil and gas assets.
"I used Pason's system in all of my field roles – whether it was checking the hole depth on a sidekick, filling out a tour sheet on the DogHouse computer, or sitting in front of a Pason workstation watching lines on the screen," Geoffrey says. "Being able to sell and talk about a product you use and believe in was a perfect fit. I feel very fortunate that Pason chose me."
Recently, Pason has introduced the new Dashboard – the well landing page that provides detailed visual information about a well – to customers over the past several months. Geoffrey has been working on that project, interacting with customers to encourage them to continue to choose Pason.
"We have a saying on the sales team that you learn something new every day, and it's that challenge that I love so much."
Outside of work and his hockey training, Geoffrey keeps busy with his twins, who are in basketball, gymnastics and dance. He also has a two-year-old, with whom he has a father-daughter dance class on the weekend. His wife is a high school teacher who coaches the senior girls' basketball team.
"All of this, mixed with my training schedule, does not leave me much free time," Geoffrey says.
Speaking of training, in preparation for the Hockey Marathon for the Kids, Geoffrey says he's been doing dryland training two nights a week with his team.
"I run regularly and have a gym routine (never skip leg day!)," he says. "And I play hockey twice a week. We're also playing a four-hour game once a month, starting in December."
He's staying motivated by recalling the stories of families who will benefit from this fundraiser.
"We have been involved in several calls with the Alberta Children's Hospital, where the families have shared their stories," he says. "Hearing what this Marathon means to them and how it's putting smiles on the faces of these brave children is what drives me. No matter how much my body wants to quit, I have to push on. If they can do it, so can I!"
To support Geoffrey's fundraising efforts, visit his fundraising page.
The Hockey Marathon for the Kids will begin on March 31, 2022, at the Chestermere Recreation Centre. For more information, visit www.hockeymarathon.com. Watch the video from the 2014 Hockey Marathon for the Kids.
Use the links below to share this article on LinkedIn, Twitter, Facebook, or via email.